Mount Bromo Milky Way Ijen Blue Fire Tour
Mount Bromo Milky Way Ijen Blue Fire Tour Package . This one of the leading programs for bromo tour packages and Ijen Blue fire offered by MountBromoTour.Com. Where we will invite visitors to see the beauty of night tours on Mount Bromo by seeing the beauty of a cluster of stars stretching in the sky. A new program that is very well liked by travelers who like photography hobbies especially for nature tourism that is very cool and interesting.
Spot or location to see the beauty of the Milky Way at Mt Bromo cannot be found in every place in Bromo. Certain locations that we prepare for you will produce special and promising photography results. Because we have delivered a variety of world photographers and they are very satisfied with our service because we do not invite to spot the Milky Way carelessly.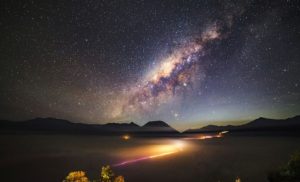 In general the Bromo Milky Way Tour  is almost the same as the Mount Bromo tour package 2 days 1 night, but at certain hours you will invite us to take the Milkyway hunting to produce the perfect photos. Following above, we have provided an overview of the Bromo Milkiway tour package that we offer to visitors of Mount Bromo tourist attractions with a very special star panorama.
Schedule of the Bromo Milky Way Tour Tour Package Program
Mount Bromo Milky Way Ijen Blue Fire Tour Itinerary
Day 1: Pickup – Hotel in Bromo – Hunting Bromo Milky Way
Pickup in the city of Surabaya / Malang either from the Airport, Station or from other hotels or cities agreed before

Towards the Mount Bromo Tourism area, the trip is around 4 hours

Until at Mount Brom check in hotel and take a break and rest
Day 2: Bromo Milky Way – Bromo Sunrise Tour – Ijen Crater Blue Fire Tour

 We will wake up at 11.00 am for Bromo Milkyway


Drive to milky way stop for hunting best sceneryy mount bromo at night

After getting the maximum results at 4 am towards to mt penanjakan 1 to see the sunrise

After sunrise continued to the sand sea to get to Mount Bromo

Visit Savana Grass Land, Whispering Sand, Teletubies Hill and other interesting locations

Once satisfied, explore the best tourism potentials on Mount Bromo back to the Hotel

 Arriving at the hotel, having breakfast, taking a shower and resting

 Check Out (maximum check out at 12 noon) and transfer out to Ijen Crater


Need 4-5 hours driving from Mount Bromo to Ijen Hotel

Chek in and rest
Day 3 : Ijen Blue Fire Tour – Transfer Out
Ijen blue lava tours or Ijen Blue Flame Tour start from Hotel in Ijen in midnight transfer to Paltuding the ranger camp Post

Start the trekking from Paltuding to reach Ijen Crater, by walking around 3 km on the route of sulfur minners.

Arrive on the rim of the crater to enjoy the Bluefire/blue flame that appear on the Sulfur mine

After see the sunrise of Mt Ijen back to paltuding

Paltuding to re-join the private transport back to HotelDrive back to the hotel for having breakfast and showering

Arrive at Hotel, pack up and check out and direct tranfer out to Surabaya or Malang or we can tranfer you out to Ketapang harbor Banyuwangi if you will continue your trip to Bali.

End trip of Mount Bromo Milky Way Ijen Blue Fire Tour Package
Note: To be more maximal for the Milky Way Bromo hunting it usually takes 2-3 nights, please see following itinerary https://mountbromotour.com/mount-bromo-tour-package-3-day-2-night/ or https://mountbromotour.com/mount-bromo-milky-way-tour-and-photography-package/
Mount Bromo Milky Way Ijen Blue Fire Tour Price
Please contact us Email : mountbromotour@yahoo.com (depend of amount participant and hotel to stay)
Regarding the price of the bromo tour package that we provide depends on the facilities desired, the number of tour participants and the date of the tour departure, for more information about this tour package please contact our admin for the telephone number listed on this website. and below are the standard facilities that we provide,
Optional hotel near Mount Bromo : Jiwa Jawa Resort , Lava View Lodge , Cafe Lava Hostel, Cemara Indah Hotel, Bromo Permai Hotel , Adas Hotel , SM Hotel (Sumber Makmur Hotel), Sion View Hotel , Yoschis Hotel , Nadia Hotel, Sukapura Hotel or stay at Homestay/Villa , etc
Facilities :
Professional tour driver

Private Car AC during the trips

1 night stay at Hotel around mount bromo and Breakfast

1 night stay at Hotel around Mt Ijen and breakfast

Transportation fuel, travel tax and parking fee

Private Bromo Jeep Tour 4 (WD)

Entrance Fee for all tourism objects

Mineral drink

Hot drink during bromo ijen photography tour
Excluded :
English speaking tour guide (custom order)

Riding Horse

Travel insurance and personal expense
What you need to bring for the Bromo Ijen Milky Way Tour:
Warm clothes / Jacket

Mask

Gloves.

Scarf.

Kerpus (headgear)

 shoes
Related trips to Mount Bromo Tour