Mount Semeru Bromo Trekking Tour 4 Day 3 Night
Mount Semeru Bromo Trekking Tour 4 Day 3 Night – MountBromoTour.Com. Mount Semeru Trekking Travel Package and mount bromo tour with cheap price and complete facility and best option for climbing volcano mountain in Indonesia. Trekking Mountain Sumeru or Semeru combine with Mount Bromo is allow to visit Mount Semeru Trekking and Mt Bromo Tour  Via Tumpang Malang or Bromo Probolinggo. Bromo Semeru trekking usually need duration trekking trip is 4 days and 3 night.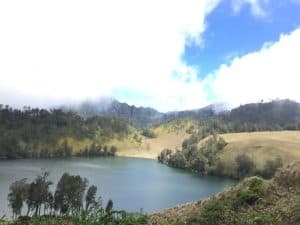 Mount Semeru Bromo  Tour 4 Day Itinerary
Day 01. Surabaya – Malang/Bromo Probolinggo (D)
Pick up at Juanda Airport then Drive to Malang or Probolinggo (Mt Bromo) in 3 hours driving , Overnight in Homestay at Tumpang/Ranu Pane Village at stay at hotel near Mt Bromo (depend of your flight arrival)
Day 02. Ranupane – Ranu Kumbolo- Kalimati Camp (B,L,D)
After breakfast,  drive to Ranupane Village about 1,5 hours and starting to trekking  to Kalimati Camp or Arcapada Camp (about 6-7 hours).  Having lunch and short break at Ranu Kumbolo. Stay overnight in Kalimati Base Camp.
Day 03. Semeru Summit –Ranu Pane – Cemoro Lawang (B,L)
at 02.00 PM, climb to Arcapada  than continued to summit about 3 hours. After reaching the summit of volcano enjoying the amazing view, because Semeru is the highest land in Java . Then we descend from summit back to Kalimati (camp) to have breakfas and rest  than continue to Ranu Kumbolo and after lunch continued trekking to Ranu Pane  via Mount Ayek-ayek. After Arrived in Ranu Pane, having lunch and   rest  continued to Mountt Bromo by jeep crossing savannah. Check in Hotel in Cemoro Lawang. Free Program
Day 04. Mount Bromo Tour – Surabaya/Malang/Yogyakarta or Bali
Bromo tour at 04.00 Drive to Mt Penanjakan with 4WD jeep, enjoying sunrise and  enjoy the magnificent view of Mt Semeru and Mountt Bromo .Then we will drive you through  ocean of sands across to go to peak of Mt Bromo. Back to Hotel and transfer out to Juanda International Airport Surabaya (optional drop off Malang, Yogyakarta or Bali). ENd of Mount Semeru Bromo Trekking Tour 4 Day 3 Night

Mount Semeru Bromo Trekking Tour Price 4D3N
2 person -> IDR 6.950.000/pax
3 person -> IDR 5.850.000/pax
4 person -> IDR 4.950.000/pax
5 person -> IDR 4.650.000/pax
Note :
Not for high season or peak season surchage

6 up please contact us for best price

Only drop off Surabaya or Malang
Facility of Mount Semeru Trekking Tour 4 Day 3 Night
 Entrance Fee, Portal, Permit Climbing

JEEP from Malang/Bromo – Ranu Pane Village P.P and for Bromo Sunrise Tour

Meals in Program

Water all ready

Porter

Equitment Camp Gear

Sleeping Bed

Profesional tour guide
How To Book Semeru Bromo Climbing Package ?
Please contact us via email to mountbromotour[@]yahoo.com
Related Mount Bromo Tour Package :
Semeru Trekking Tour Package 3 Day 2 Night