Mount Bromo Tour Package 3 Day 2 Night
Mount Bromo Tour Package 3 Day 2 Night. Are you looking for a maximum vacation to Mount Bromo with a cheap price and the best facilities? We are MountBromoTour.Com ready to provide an exciting and enjoyable holiday service. Especially for  groups, honeymoon package, personal tour or family vacations. Bromo Tengger Semeru National Park is a tourist spot which is one of the dreams for traveller fans for their holiday  time because Bromo has become the best and most favorite mountain in Indonesia. The popularity of Bromo tourism has increased along with the number of visitors to Mount Bromo.
Moreover, Mount Bromo is still active, this will add to the attraction of Mount Bromo in addition to the beauty of the sun rise, savanna grass, desert or Bromo caldera as well as the beauty of the Bromo sunset tour. Interesting and romantic places in Bromo will be explored perfectly if you take the Bromo Tour 3 Days 2 Night. But if you don't have enough time, for example, you want to see Bromo Milky Way or others can take the Bromo tour package 2 days 1 night or Bromo Midnight Tour.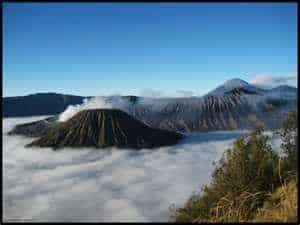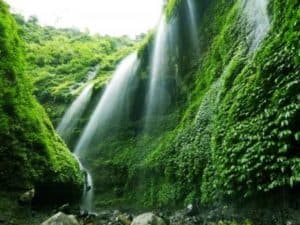 In this special tour to Mount Bromo for 3 days, we will invite you to explore the tourist attractions on Mount Bromo and surrounding areas with more perfection. Why is that? of course this will be different compared to the regular Mount Bromo tour such as the Bromo Midnight tour package and Bromo tour 2 days 1 nights. Because tourism objects that will be explored in Bromo are far more diverse. Are as follows.
Mount Bromo Tour Package 3 Day 2 Night Destinations
Madakaripura Waterfall
Bromo Sunrise Tour Penanjakan 1 / Kingkong Hill / Bukit Cinta
Bromo Sunset Tour Mentigen View
Bromo Crater
Luhur Hindu Poten Temple
Whispering Sand Kaldera
Teletubies Hill
Bromo Savana Grass land
Umbulan Waterfall Sukapura
Mount Bromo Tour Package 3 Day 2 Night Travel Itinerary
First Day: Surabaya / Malang – Location of Mount Bromo through Probolinggo
Bromo Tour Package 3 Day 2 Night starts with pickup from Surabaya, Malang, Sidoarjo, Banyuwangi Bali or Yogyakarta or another city in East Java. Our will pick up on your arrival at either the Airport, Train Station, Terminal, hotel or home. After meet and greet, the trip to your hotel near Mt Mount Bromo is around 3-4 hours. Stop by visit Madakaripura Waterfall First, then go to your lodging on Mount Bromo. Arrive at the location of the Bromo area check in the hotel or inn closest to Mount Bromo and stay overnight
Day Two: Bromo Sunrise Tour – Tour to Bromo Crater – Savana – Whispering Sand
Bromo holidays begin at 3:00 a.m. by jeep / Hartop transportation which we have prepared to drive about 45 minutes to the top of the mountain penanjakan to see the beauty of the sunrise. Satisfied to see a very beautiful sunrise, go back down to the sea of ​​sand to go to the jeep parking near the Poten Luhur temple. From here you walk (can rent a horse) to go to the steps of Bromo and proceed up about 250 steps to the lip of the crater of Mount Bromo. After arriving at the top of the crater enjoy the beauty of the crater and the view towards the magnificent sea of ​​Bromo. Satisfaction explore Bromo crater descends back to the jeep / Hartop parking then continues the tour to Savana and whispering sand. In Savana you can see the beautiful hills of teletubies and other small mountains. Then go back to the hotel, eat breakfast and free program. In the afternoon see the charm of the sunset of Mount Bromo from Mentigen View Point Cemoro Lawang.
Third Day: Sunrise at Mentigen Or Mt Penanjakan 2 – Umbulan Waterfall – Surabaya / Malang
In Morning around 5 we deliver to the second sunrise spot, Mentigen Peak or mt Penanjakan 2, from here you see the other side of the sunrise view point. Return to the hotel and free program until arriving at the pick-up of our team to return to Surabaya or Malang. On the way  stopped at Umbulan Waterfall, Sukapura, Probolinggo. Upon arrive in last location for drop you off end trip of Mount Bromo Tour 3 Day 2 Night.
Mount Bromo Tour Package 3 Day 2 Night Price
Please contact us
Facilities :
Professional tour driver
Private Car AC during the trips
2 night stay at Hotel around mount bromo and Breakfast
Transportation fuel, travel tax and parking fee
Private Bromo Jeep Tour 4 (WD)
Entrance Fee for all tourism objects
Mineral drink
Excluded :
English speaking tour guide (custom order)
Riding Horse
Travel insurance and personal expense
Optional trip: Rafting Songa Pekalen Probolinggo, Bromo Milky Way Tour and Snorkeling Package Gili Ketapang Island Probolinggo.
Related trips: