Yogyakarta Bromo Ijen Tour Package 3 Day 2 Night – Bromo Ijen Tour from Jogjakarta or Jogja Bromo Ijen Package Tour is a combination packages that provided by MountBromoTour.Com , best combination for volcano trekking to explore Mt Bromo sunrise tour and Ijen Crater (Ijen Blue fire or ijen blue flame) Banyuwangi. Best price for your trip because complete facility and reasonable price

Yogyakarta Bromo Ijen Tour Package is one of mount bromo tour package to explore all famous attractions for the Bromo Sunrise Tour at Mt Pananjakan with Bromo Jeep Tour (Toyotal Land Cruise), Bromo Crater, Savana , Love Hill, Whispering Sand and another interested place such us Madakaripura Waterfall. Besides enjoy the beauty of Mount Bromo, our guest also explore the phenomena of Ijen crater that is very popular tourist place with the biggest sulfuric volcano lake in Indonesia.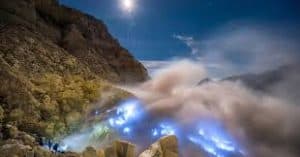 Yogyakarta Bromo Ijen Tour Package 3 Day 2 Night Description
Day 01: Pick up and direct to Mount Bromo
The trips is start when our staff will pick you up from our hotel/guest house at Yogyakarta in morning around 08.00 Am after breakfast. Then drive for about 10-11 hours to Mount Bromo area with an privat AC vehicle (depend of trafic jamp). Lunch and ret at local restourant on the route to Mt Bromo. Upon your arrival in Mt. Bromo area, you will stay at the Lava View Lodge, Cafe Lava, Bromo Permai, Bromo Cottages or Cemara Indah Hotels or similar hotel at Cemara Lawang area.
Day 02: Bromo Sunrise Tour – Mount Bromo Tour – Ijen Crater Area
Mount Bromo tour start At 3:30 am, the 4WD (TLC/JEEP) will bring you to Mount Pananjakan 1 which is location is on the rim of the Tengger caldera as known as highest view point to bromo sunrise with background  Mount Bromo , Mt Batok and Mount Semeru . If the weather is not foggy, at the moment sunrise you wil see best stunning sunrise. Afterward, our 4WD jeep will bring to the parking area of 4WD vehicle in the sea of sand,  by passing the amazing view on the slope of Mt. Bromo. Then from jeep parking area you are required walking or rent a horse to cross seas sand on the slope of Mt. Bromo and continued each the 250 stairs up to reach peak of Mt Bromo. After enjoy stunning view in Mt. Bromo and around at at 08:00 AM, we will continued trip to Wisphering Savana and Pasir Berbisik,  at 10 AM back to the hotel for having breakfast, take shower, packing and loading bags. After chek out we will heading to Ijen area with duration trip around 4/5 hours driving. During to Ijen you can stop at  interesting objects such as small town, villages & rice field. Upon arrival in Ijen area chek hotel at Bondowoso subdistric (Catimor or Arabica Guest House, Ijen View , etc) or at Banyuwangi Subdistrict (Ketapang Indah, Ijen Resort and Villas, Ijen Resto, etc), or similar hotel
Day 04: Ijen Crater Tours – Surabaya or Bali
Ijen Trekking Tour is start around at 04:30 in the morning, drive from hotel to Paltuding post approximately 50 minute driving. Upon Arrive at the parking area of Mount Ijen (Paltuding), approximately 2 hours trekking will be required to ascend slope of mount Ijen to reach peak of Mount Ijen Crater .Enjoy the amazing natural scenery with fresh air cold & shady. Enjoy best panorama of the lake of sulfate where reflects spectacular blue greenes and surrounding walls like doom.  After enjoyed the amazing natural scenery at Crater of Ijen we will descend down the slope until cars parking area. After short rest we will continued our trip directly to Gilimanuk Ferry Port in Ketapang Banyuwangi or by drop off at Surabaya. End of program Yogyakarta Bromo Ijen Tour Package 3 Day 2 Night.
Note : If you want to see phenomenas of Ijen Blue Fire or Ijen Blue flame tour start ijen tour in midnight around 01 AM

Yogyakarta Bromo Ijen Tour Package 3 Day 2 Night Price
2 person >> IDR 3.850.000/pax
3 person >> IDR 3.150.000/pax
4 person >> IDR 2.650.000/pax
5 person >> IDR 2.350.000/pax
Note :
Not for high sason or peak season surchage

6 up please contact us

Only drop off Surabaya or Banyuwangi Port

Extra cost if direct drop off to Bali (Kuta, Ubud, Denpasar, Lovina and Pamuteran, etc)
Excluded:
– Pick up service from your location in before start trip during bromo ijen tour
– Cost for highway , parking and retribution, local guide
– Land transportation , fuel and profesional driver
– 4WD vehicle (jeep/toyota Land Cruiser) for Mount Bromo Sunrise Tour
– 1 nite stay at Hotel of Mt Bromo area (Cafe Lava, Bromo Permai, Adas, Yoschi, Sion and Nadia Hotel)
– 1 nite stay at Hotel of Ijen Crater area (Catimor or Arabica Hotel)
– Entrance tickets in Mt Bromo & Ijen Crater as mentioned on the tour program
Included:
– Cost for horse riding
– Cost for Meal (lunch & dinner)
– Travel insurance, Bar, Laundry, Phone call, Internet, Tipping & other personal cost
Booking Yogyakarta Bromo Ijen Tour Package 3 Day 2 Night
Please contact us via email to mountbromotour[@]yahoo.com
Related mount bromo tour package :
For more details about Yogyakarta Bromo Ijen Package Tour  please contact us.
MOUNTBROMOTOUR – Yogyakarta Bromo Ijen Tour Package 3 Day 2 Night