Mount Bromo Tour From Malang
Malang Bromo Tour Package or Bromo Package Tour from Malang is one of option to visit bromo tour. Malang to mount bromo is need around 3 or 4 hours driving . Tour to mount bromo also have 3 route, first through tumpang and usually is by 4 wad jeep tour , through tosari or wonokitri Pasuruan district and the famous choice is through Probolinggo because on this route a lot of hotel accommodation easy to find for rest and stay overnight. 
Mount Bromo Tour From Malang  there is any 2 optional trips, mifnigh tour or bromo day tour and  2 day 1 night (2D1N) trips, by direct pick you up from Malang train station (Kota Baru ) , Abdurahman Saleh Airport , Hotel at area Malang or Batu Town and another place which was agreed upon beforehand. Here is detail of mount bromo tour package from Malang, with duration trip 2 day 1 night tour and for the finish trip is could be back to Malang, transfer Surabaya, Banyuwangi, Bali or Yogyakarta.
Optional Mount Bromo Tour Package From Malang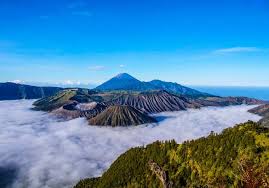 MOUNT BROMO MIDNIGHT TOUR / BROMO DAY TOUR FROM MALANG
The trip is start in midnight 11 PM – 01 Am , our staff will fetch from the location which make in advance before.  
With privat Ac vehicle we wil bring you driving from Malang direct to Sukapura Village or Cemara Lawang, the trip is approximately 3 hours. On the way to Mt Bromo stop for having dinner, coffe break and toilet.

Upon arrive in Sukapura or Cemoro Lawang Bromo short rest and at 03.00 AM we will change into 4WD vehicle to reach Mt Penanjakan Hill to see mount bromo sunrise
Afterward 4 WD jeep will bring you down to parking area in the sea of sand. During the trips you will see stunning panoramas at Bromo suroundings.
Upon arrive at Jeep parking area by foot or riding horse cross the sea of sand and continued waking 250 u stair to reach Bromo crater.
After explore Bromo crater until satisfied back to jeep parking area and continued to Savana hill and whispering sand
After completely explore all tourism object at Mt Bromo we will bring you back to Sukapura Village, showering and short rest.
Transfer you out to Surabaya/Malang/Banyuwangi/Yogyakarta
ENd trip off 4 Mount Bromo Midnight Tour
Bromo Midnight Tour From Malang Price
| Person | Price |
| --- | --- |
| 1 person | IDR 2.300.000/pax |
| 2 person | IDR 1.250.000/pax |
| 3 person | IDR 900.000/pax |
| 4 person | IDR 750.000/pax |
| 5 person | IDR 650.000/pax |
| 6 person | IDR 600.000/pax |
Note :
* Not for high season or peak season surcharge
* 6 person up please contact us for best price
Included :
Professional tour driver
Private Vehicle with full AC (air conditioned) , fuel, travel tax , highway and parking fee
Private Jeep 4 WD for Mount Bromo Tour
Mineral drinking during the tour
Entrance fee ticket to Mt Bromo
Excluded :
English speaking tour guide (custom order)
Horse riding cost
Travel insurance and personal expense
Meals (breakfast, lunch and dinner)
 

Mount Bromo Tour From Malang 2D1N
Day 01 : Pick Up in Malang area– Mount Bromo Tengger Area
Pick you up by private car full AC (air conditioned van) from Malang area Airport, Train Station, Hotel or Apartement

After meet and greet with our team , we will drive around 3 hours driving to your hotel around Bromo Tengger area.

Rest and having lunch on the way to Mt Bromo


After arrive in Bromo area, Check in hotel and free time
Day 02 : Mount Bromo Tour  – Malang / Surabaya / Bali / Yogyakarta

Morning call and wake you up at 03:00 or 03.30 AM ( depend of visitor trafict ) after prepare for the trips, and by Bromo Hartop/ Jeep Tour will bring you to the view point of sunrise (the highest top in mount bromo area)

Afterward, comeback to the jeep and continue to sea of sand , and continued by walking around 2 km (optional is rent a horse) to the top of Bromo Crater

After finish enjoy the crater, come back to the jeep parking area then continue to your hotel to having breakfast, take shower, rest and preparing to check out.

Maximum Chek out is at 01.00 PM

Transfer you out to Surabaya/Malang/Banyuwangi/Bali/Yogyakarta or another place which is previously agreed.

End trip of Malang to Mount Bromo Tour
Mount Bromo Tour Price From Malang 2020
| Tour | Price |
| --- | --- |
| 1 person | IDR 3.600.000/pax |
| 2 person | IDR 2.050.000/pax |
| 3 person | IDR 1.550.000/pax |
| 4 person | IDR 1.300.000/pax |
| 5 person | IDR 1.100.000/pax |
| 6 person | IDR 1.050.000/pax |
Facilities :
Speaking English Driver

Private Car AC during the trips

1 night stay at Hotel around mount bromo and Breakfast (Cafe Lava Hostel, Cemara Indah Hotel, Bromo Permai Hotel , Adas Hotel , Sion View Hotel , Yoschi hotel ) standart room with hot shower


Optional for upgrade hotel accommodation at Mount Bromo : Jiwa Jawa Resort , Lava View Lodge ,  Plataran Bromo , SM Hotel (Sumber Makmur Hotel), Bromo Terrace Hotel

Transportation fuel, travel tax and parking fee

Private Bromo Jeep Tour 4 (WD)

Entrance Fee for all tourism objects

Mineral drink
Excluded :
English speaking tour guide (custom order)

Riding Horse

Travel insurance and personal expense

Tipping Gratitude
Related mount bromo tour package :