How Much Cost To Go To Mount Bromo Holiday? – MountBromoTour.Com. There are quite a lot of tourists who are confused about how to determine the ideal Budget to Bromo, especially for tourists who have never had a vacation to Bromo and do not know what needs are needed to support tourism activities in Bromo.
In determining the amount of costs you have to prepare, there are several things you should pay attention to. Starting from transportation matters, accommodation, how long your trip is, how many people you bring, to the distance traveled / where you come from. To be able to find out the cost of traveling to east java tour, especially visit mount Bromo, you can read to the following price estimates.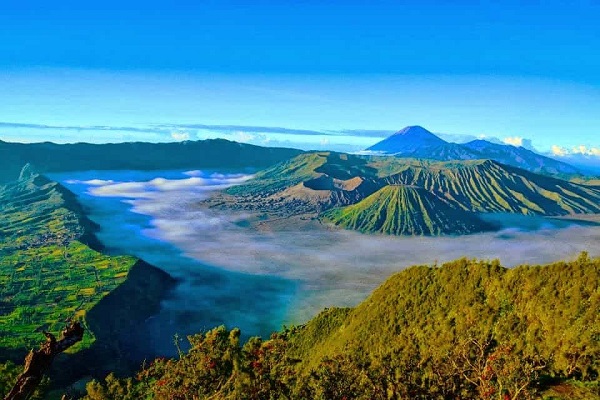 Estimated Budget for Mount Bromo Tour
During your mount bromo holiday, you can use this estimate of the budget to Bromo as a reference in preparing vacation plans and determining the amount of costs you have to spend. You need to take into account carefully so that expenses can be according to the plan and do not swell when you arrive at the Mount Bromo tourist location.
However, to be able to determine how much money you have to prepare, you need to find out first what are the needs needed to be able to travel to Bromo. For that, we have detailed the expenses that you must pay and other expenses that will suit your needs.
Option tour to mount bromo
Mandatory Expenses
Mandatory expenses are the money you have to spend for a vacation to Bromo. This cannot be avoided because a vacation here requires something that must be removed. Among them are the following
1. Bromo Entrance Fee Ticket
The first thing you have to calculate is the Bromo entrance fee ticket. For your information, the price of entry tickets for Mount Bromo tourism is divided into several categories, ho much entrace fee ticket to mount bromo?
Local Tourists 
Weekdays : Rp. 29,000
Weekends : Rp. 34,000
Foreign Tourists
Weekdays : Rp. 220,000
Weekends : Rp. 320,000
As you can see in the table, there are 2 categories of travelers and 2 different time periods. For foreign tourists, different prices are applied compared to domestic tourists. In addition, prices on weekdays (weekdays / Mondays – Fridays) and weekends (weekends/Saturdays to Sundays) are also different.
By knowing the ticket price, you can calculate the ticket cost according to the number of groups you bring and according to the applicable ticket category. Ticket reservations can be made online through the Bromo ticket booking site.
read also : Bromo Ijen Tumpak Sewu Tour 4D3N
2. Vehicle Retribution
This vehicle retribution fee applies if you bring a vehicle to Bromo. The amount of this levy varies according to the type of vehicle you bring.
4 Wheel Vehicle / Car : Rp. 10,000
2-Wheel Vehicle / Motorcycle : Rp.5.000
Bike : Rp.2.000
3. Cost Rent a Jeep in Bromo
You must pay this one fee if you want to travel to Bromo, because there are provisions that apply to every tourist who wants to visit Bromo, they are required to use Bromo Jeep Rental services. This rule applies to all tourists without exception, this is related to the security and safety of tourists. For your information, the terrain on the slopes of Bromo is quite extreme, with many steep climbs and descents and winding. And on the right – left side there are cliffs and ravines.
So only jeeps / Toyota Hardtops and 4 X 4 driven vehicles are allowed to enter the Mount Bromo area.
Cost Jeep Rentals
Bromo jeep rental from Malang City Rp. 1.500.000,-
Bromo jeep rental from Tumpang Rp. 1.200.000,-
Ngadas Round trips Rp. 750.000,-
Bromo jeep rental from Wonokitri – Pasuruan Rp. 750,000,-
Bromo jeep rental from Sukapura – Probolinggo Rp. 700,000,-
Facility :
The fee includes a professional driver and fuel
Delivery to destinations on Mount Bromo.
Jeep drivers who have tourist insight, you can use as a tour guide to enjoy Bromo tours. But some driver can't speak english
4. Cost For Meals For Bromo Holiday
For food matters, it is also an expense that you have to take into account, you can adjust the cost of this meal according to the number of groups and the duration of your trip. The more people and the longer the vacation time, the more expenses you will have. If you travel to Bromo for only one day, maybe you can try to save money by bringing your own food and drinks and bringing a variety of snacks to boost your hunger.
5. Accommodation During Bromo Holiday
The expenses for this accommodation will adjust to your travel plans. If you just want to take a day trip to Bromo, you don't need to pay this fee. However, if your vacation is more than a day and you want to feel the experience of staying at Bromo, you have to pay extra for lodging. There are many types of lodging in Bromo that you can use, starting from hotels , villas. Or if you want a cheaper option, you can look for cheap lodging in Bromo such as Homestay in Bromo, dormitory and Guesthouse around Mount Bromo.
Other Expenses Cost To Go To Mount Bromo Holiday
The following are other expenses, the amount of which adjusts to the details of your trip and your needs. So there is no specific benchmark, you can calculate it yourself according to the needs you will use.
Transportation from Hotel/Train Station/City to Mount Bromo
The cost of transportation to Bromo can vary, according to the distance from your location and the type of transportation you use. The farther the distance, the greater the expenses you have to pay for transportation for the example is Yogyakarta to Mount Bromo or Bali to mount Bromo, its need cost more expencive than Surabaya to Mount Bromo, Malang to Mount Bromo, Probolinggo to Mount bromo or Banyuwangi to Mount Bromo. And the type of transportation also matters, such as if you use a plane, the cost will be much more expensive than using land transportation.
For that, you need to determine what type of transportation you will use to Bromo.
Horse Rental in Bromo
The cost of this one is not an obligation if you travel to Bromo. This horse rental service is generally found in the Bromo caldera, precisely in the vehicle parking area to the Bromo crater. For information, to go to the crater, vehicles/jeeps can only take you to the parking area (because the area around Bromo crater is installed with stakes surrounding the crater, so vehicles cannot enter/approach the crater).
The distance between the parking area to the crater is approximately 3 kilometers, so tourists who want to go to Bromo can walk / trek or rent a horse at Bromo.
The cost of renting a horse in Bromo:
Horse Rental Price to the Crater and back to the parking area (PP): Rp. 150,000 – 200,000
Photo on horse : Rp. 10,000 / person
Other Personal Cost To Go To Mount Bromo Holiday
Costs for other personal needs such as the need for snacks at Bromo, rent a jacket, to buy a scarf/gloves / skullcap (if you don't bring your own). Or to go to the bathroom, usually, tourists who want to go to the bathroom/toilet will be charged a fee of Rp. 5,000 – Rp. 10,000.
Combine East Java Tour and Bromo Ijen Tour :