Mount Bromo Hike Tour, Climbs and Trekking – MountBromoTour.Com. Mount Bromo is famous for its natural attractions in East Java. Bromo is an attraction in itself because the status of this mountain is still active.
Mount Bromo is also included in the Bromo Tengger Semeru National Park area. The shape of Bromo is intertwined between valleys and canyons with a caldera or sea of ​​sand which is quite wide about 10 square kilometers.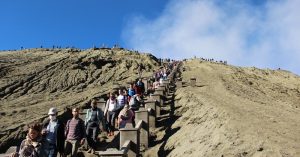 Mount Bromo Hike Tour
The best attraction to see the Bromo sunrise is the Mount Bromo hike tour to the Bromo crater. You also could visit the whispering sands, meadow Savana, Bromo sea of sand, Madakaripura waterfall, and Agro tourism at mount Bromo area (Tengger agriculture) such as strawberry, vegetable, etc.
For you to feel strong enough and have a great adventure spirit, it's a good idea to try to walk through the sea of ​​​​sand and then climb about 250 steep stairs to the crater rim. During this trip you will walk between Mount Batok on the right and Pura Luhur Poten on the left, the view is amazing.
However, during the trip of mount Bromo hike tour, you are very likely to be exposed to the scorching sun. At certain times such as the dry season, the sea of ​​​​sand often turns into dust which can interfere with breathing.
So even if it's just a light hiking process, you should prepare yourself beforehand, for example by using a sun protection cream so that your skin doesn't burn, and bringing a mask/nose cover so that the dust doesn't interfere with your breathing too much.
Mount Bromo Height
Mount Bromo has a peak altitude of 2,329 meters above sea level, Mount Bromo is now a favorite mountainous tourist area in East Java and is included in the area of 'Bromo Tengger Semeru National Park. The formation of Mount Bromo forms a link between valleys and canyons with a caldera (sea of sand) covering an area of ± 10 km2.
Mount Bromo has a crater with a diameter of ± 800 meters that stretches from north-south and ± 600 meters when measured from east to west. As for areas that are considered dangerous, they are circular with a radius of 4 km starting from the center of the crater of Mount Bromo.
But take it easy, even though this mountain is still active, you can visit it whenever you want. You can even climb to the top of the crater rim or mount Bromo hike tour and see directly the inside of the crater.
Some of the climber's favorite points are Puncak Penanjakan 1 and Penanjakan 2 which have the best views to enjoy the sunrise moment of sunrise.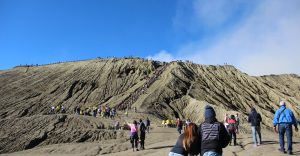 Mount Bromo Hike & Trekking Route
The Mount Bromo hike tour departs from the hotel around 3 am to Pananjakan, after seeing the sunrise and the beauty of Mount Bromo from a height, a chartered jeep car will take tourists back to the Bromo sand sea to go to the Luhur Poten Temple area and the crater of Mount Bromo.
Optional if without mount bromo jeep tour you can direct hike by your own foot to climb Mt Penanjakan for sunrise and to the crater. Alternatively, you can use a motocross rental at mount Bromo.
At the beginning of the journey through the sea of ​​sand, the road that is passed is quite gentle, but it will feel quite heavy because the texture of the sand is soft and dusty, it feels more or less like walking on beach sand. Pay attention to the direction of the wind so you can avoid dust as much as possible.
Use shoes that cover your feet perfectly and are comfortable to wear, even better if you use mountain shoes, wearing sandals doesn't seem like a good idea. Bring drinking water because you may unknowingly get dehydrated, this often happens in outdoor activities that have cold temperatures but are exposed to direct sunlight.
Do not use a jacket that is too thick. Because climbing to the top of Bromo is usually done after returning from Pananjakan in the very cold morning, most tourists still use thick jackets, it's a good idea to change to a thinner jacket or long-sleeved shirt, so you won't overheat and sweat too much especially when passing through uphill and climbing roads.
The last challenge to the top of Bromo is the stairs that stretch steeply to the crater rim. Due to the Bromo eruption, many of these steps are covered with sand so it is a little difficult to step on, the thin air at an altitude of about 2,300 meters above sea level is also usually quite difficult and makes you breathless because of the thin oxygen content.
However, when you get to the top, all the fatigue will be paid off by the splendor of the crater of Mount Bromo and the spectacular natural beauty. The crater rim area is very narrow and steep, you should be very careful when you are here.
In climbing the mountain, the journey up is halfway, prepare yourself physically and mentally for the journey down to safely reach the next destination, namely Teletubbies Hill and Whispering Sand.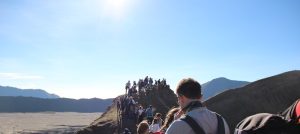 Mount Bromo Climbing Time
Climbing to the top of Mount Bromo is a series of main tourist activities in the Mount Bromo area that should not be missed, this activity is usually carried out after tourists return from Pananjakan.
How long does it take to hike climbs mount Bromo? After a steep journey from Mt Penanjakan hill for a sunrise tour. Usually, tourists continued to the middle of the sea of ​​sand, a few hundred meters before Luhur Poten Temple. From here the journey to the top of Bromo or the Bromo hike tour starts, but if you feel lazy can be continued by riding a horse or on foot.
The distance from Mt Penajakan to Mt Bromo cater around 5 km. If you use a jeep stopped to approach the stairs to the top are quite far and some of the paths are steeply uphill. Climbs to Mount Bromo crater around 30 minutes hike up.
For those of you who don't feel physically strong enough, you should use a horse rental service at an affordable rate of around Rp. 100,000 one way to the Pura Luhur area, near the stairs to the peak of mt Bromo crater
Mount Bromo Tour
Planning to take a vacation to Mount Bromo tour package from Surabaya, Malang, Probolinggo, Yogyakarta, Bali, or Banyuwangi normally needs time for 1 day or 2 days.  An optional tour package if you don't have much time to stay in the Bromo area for one night is Bromo Midnight Tour.
To make your vacation more comfortable, especially for the mount Bromo hike tours using travel services in East Java can be the solution.
MOUNTBROMOTOUR Travel agent offers Bromo Midnight tour packages, at low prices, complete and reliable. Of course, this package is suitable for those of you who are looking for the most economical price with the most satisfying service.
Here is a type of tour to mount bromo
Combine of Bromo Ijen Tour