Motocross Rental At Mount Bromo. Want to explore mount Bromo from a different side? Try a dirt bike trail with a motor trail ! By using a motor cross, of course, the trip to explore Bromo will be more enjoyable. Indeed, not all motocross can be used to visit this Bromo tour. You should choose a Motorcross rental service that is experienced and reliable in the field.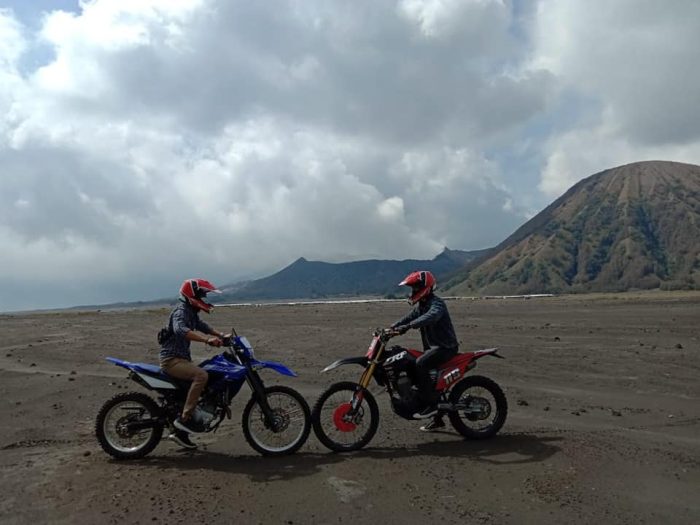 Mount Bromo Dirt Bike Tours
Bromo is one of the famous tours in East Java, which is often visited by many tourists. To explore Bromo, of course, you have to use an adequate vehicle. The condition of the soil and roads in Bromo is indeed unusual. Therefore you need a Mount Bromo dirt bike tours, so you can enjoy the view of Bromo to the maximum.
Related : Madakaripura Waterfall Complete Information You Should To Know
Why Should You Rent a Motocross in Bromo
Come on, let's discuss the reasons that underlie yours to choose a motor trail as a vehicle when in Bromo. Many visitors already know that the tourist route on Mount Bromo has a fairly difficult track. Besides that, it turns out that there are still many reasons why you should use a motocross rental in Bromo.
Let's read the article below!
Related : Bromo Ijen Tumpak Sewu Tour 4D3N
Mount Bromo Have a Steep Road
You can see the beauty of the scenery in the Bromo area, which is very enchanting and will not be matched. However, there are many things that become obstacles when you travel in this place, one of which is the steep roads. Bromo provides a challenge for anyone who wants to travel to this place. With steep roads, of course, not all vehicles can reach this tour smoothly. Therefore, we provide you with the best solution for using a motocross while traveling in Bromo.
We offer Motorcross vehicles that have been validated for their ability to travel on steep road tracks. Therefore, make sure you use the best choice of motor trail rental at mount bromo services when visiting Bromo.
Related : How Much Cost To Go To Mount Bromo Holiday?
Slippery Road
In addition to the steep conditions, it turns out that Bromo also has several slippery road locations. Therefore you can not carelessly use a private vehicle. Undesirable risks can occur if forced to use ordinary vehicles. Make sure to always maintain safety by using the right vehicle according to the terrain of the intended location.
Doing tourism activities is, of course, one of the efforts to get comfort and pleasure in life. Therefore, make sure that tourist activities in Bromo are safe and easy by using our services.
Good Machine
By using a motocross rental at mount Bromo, you will get a vehicle that is indeed in accordance with the track or mountainous terrain conditions. The condition of all the vehicles we rent, of course, we take very good care of. The vehicles we have are all very good, and the engine condition is maintained.
Therefore you can use our fleet at any time. Make sure you also have the ability to ride a motorcycle across well.
Safety is the main key to carrying out tourism activities. Don't be careless, and always pay attention to the important things in traveling wherever you are.
Well, we have conveyed various reasons that need to be considered regarding why you should choose a motor cross as a vehicle when traveling in Bromo. You can get all these benefits easily if you use our services.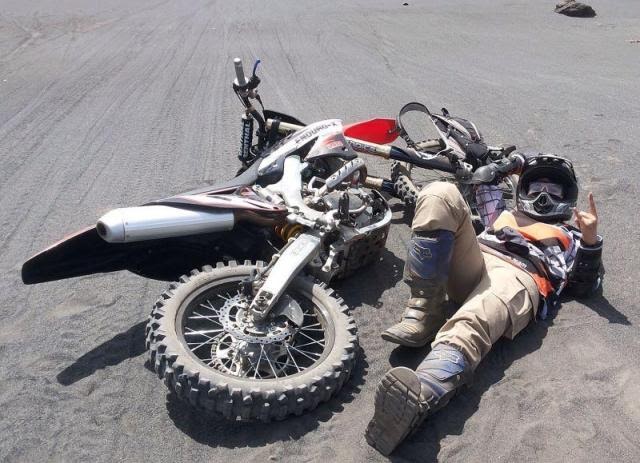 Price Of Motocross Rental At Mount Bromo
Weekday Rp. 350.000,-
Weekend Rp. 400.000,-
High Season Rp. 450.000,-
Note: 1 unit Motor Trail starts at 02.00 AM – 16.00 PM
Specifications of Motocross Honda CRF 150 L
• Tire Size 18″ -21″
• Cylinder Volume 150cc
• Front Suspension Upside Down
• Unitrack Rear Suspension
• Length x Width x Height 2005 x 765 x 1080
Additional cost
Motocross guide IDR 450.ooo
Mechanic IDR 450.ooo
Shoe size 40-45 IDR 50.ooo
Body Protector IDR 50.ooo
Another adventure tour :
Rental Motocross in Mount Bromo
Knowing the various types of risks that can be obtained if you use a regular vehicle, of course, you don't want. Therefore, you can use our services  for your mount bromo tour while in Bromo.
We have many advantages over other rental services that can be considered, which are as follows:
Motocross Rental With Low price
We provide a very affordable Motocross rental price, and you can use it anytime. By using a motocross, of course, you will not experience damage or problems in the vehicle.
Imagine if there was damage to your personal motorbike. Of course, it would affect your daily activities. Renting a motocross is, of course, one of the best solutions when you are in Bromo. This will reduce the risk of damage to your personal vehicle.
You can ask for more detailed information about Motocross rental at Mount Bromo by contacting our admin
Related : Mount Bromo Tumpak Sewu Tour 3D2N
Rental Motocross in Mount Bromo Area
Motocross rentals are usually used by tourists from outside the city who want to explore Bromo more closely. Therefore, we have access to a garage that is very close to a hotel near Mt Bromo at Cemara Lawang Village, Ngadisari, Sukapura, Wonotoro, and many other places. Having a garage close to mount Bromo attraction, of course, make it easier for you to find and use our services.
When using our services, of course, we will provide you with guidance and information on how to drive properly and correctly using a motocross to be able to devour the Bromo field.
And keep in mind there are four access points to Bromo Entrance that can be passed, namely via Malang Ngadas, Kab. Pasuruan, Kab. Probolinggo and Lumajang. Besides rental motocross in the mount Bromo area, we also provide motocross in Malang. Because one of our offices is located in Malang too. If you take rental motocross from Malang, then you can follow the Bromo route via Tumpang.
24 Hours Service
Bromo tour package to catch sunrise usually starts at midnight, so you can watch the sunrise at around 05.00. Therefore, many tourists are looking for information about Motocross rentals that can support this. Don't worry; we provide 24-hour service via WhatsApp to provide the information you need.
However, if you want to rent a vehicle, we have working hours from 07.00 am to 9 pm. With 24-hour online service, of course, it will help you to get information quickly about the motocross rental you need.
In addition to having 24-hour service, we also provide very friendly and responsive customer service. We will immediately answer all kinds of questions quickly and precisely. Thus, you can more quickly determine the choice to get the best motocross rental service that is suitable to accompany you while in Bromo.
Other Motorcycle Rental Services:
Motocross Rental at Malang
Motocross Rental at Batu
Motorbike rental at Malang
Motorbike rental at Malang
Motorbike rental at Probolinggo
Let's hurry up and contact our customer service by clicking the WhatsApp button in the lower right corner of the screen.
We have reviewed the explanation of motocross rental at Mount Bromo in detail in this article. There is a lot of information you need to know about Bromo tourist destinations at MountBromoTour.Com.
In addition to renting motocross at mount Bromo area, we also have many other facilities such as rental cars, buses, tour packages and so on. Interested? Come on, hurry up and contact our admin.
Example of Mount Bromo Tour Package
Oh yes, if you need 4-wheeled transportation to Bromo, we are also ready to provide it. We have a fleet of Avanza, Innova, Mobilio, Xpander, Fortuner, Pajero to Alphard.
By using a car, the trip can be easier, and you can rest for a while on the way to Bromo. Or if you want to make the trip more practical and