Mount Bromo Ijen Tour From Thailand & Vietnam– MountBromoTour.Com. This is a tour package to Mount Bromo Volcano and  Mount Ijen Crater that we made specially for Thailand People or tourist after explore Thailand country want to hoiday to Indonesia.
Thailand To Java Bromo Ijen Tour
Not only offering tours to mount bromo sunrise tours and mount ijen blue fire tour, we are also offering various other interesting tourist objects and sightseeing around Java. That is can combined with Yogyakarta Tours, Bali Tours, Malang Tours, Surabaya Tours, Lumajang Tours for Tumpak Sewu Waterfall Tours, Beach Tour, and all of the interest obyect in Java and Bali.

Consists of beach tours, eco-tourism , waterfalls tour, heritage tours, culture tours, study tours and etc. This tourist attraction is perfect for a family holiday, private tours or couples, company gatherings, study tours, honeymoons and others.
Bromo Ijen Crater Tour From Thailand and Vietnam
Mount Bromo Ijen Tour From Thailand is the best choice of tourist destination in Surabaya East Java. Lots of interesting tourist objects near Mount Bromo and Ijen Crater that can be explored on your journey. Refreshing the soul and brain, by enjoying the amazing of nature sightseeing, and seeing the local culture of East Java which is very unit and rare.
Bromo Ijen Tour is a special combination of volcano tours, we will bring you to explore the beauty of Bromo tourism and kawah ijen with special trips for mount ijen blue fire tour or famously called with Ijen Blue Flame Tour attractions. This package is also suitable for visitors around the whole world.
related tour :
Generally for mount Mount Bromo Ijen Tour From Thailand, only need 3 day 2 night trips. But you can choose for 4-day tour by extending 1 night at hotel around Surabaya for shopping tours, city tour and rest before heading back to your country.  Or extend 1 day to visit Tumpak Sewu Waterfall or explore Malang tour package.
During mount bromo tour , we will explore all famous attractions at Mount Bromo such us for the Bromo Sunrise Tour at Mt Pananjakan by Bromo Jeep Tour, Bromo Crater, Savana, Love Hill, Whispering Sand and another interesting place such us Madakaripura Waterfall. For mount Ijen Tour we will take mount ijen blue fire tour, coffe plantation tour. Please see the details itinerary for the trips.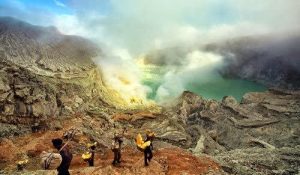 Mount Bromo Ijen Tour From Thailand Options
Bromo Ijen Tour Destinations
Bromo Sunrise from Penanjakan 1/ love hill / kingkong hill

Bromo Crater

Savana Grass land and Teletubies Hill

Hindus Tengger Temple

Whispering of Sand

Bromo Sea Sand

Madakaripura Waterfall

Ijen Crater

Ijen Blue Fire

Ijen Sunrise Tour
Okay please see the short itinerary for Bromo Ijen Tour Itinerary below
BROMO IJEN TOUR From Thailand Itinerary

For this package , besides arrange from Thailand we can arrange from Vietnam too.
related : Bromo Ijen Tour From Singapura & Malaysia
Day 01: Pick Up – Mount Bromo Tengger Area
The trip is starts by picking you up at the Surabaya area, especially from Juanda International Airport (please reserve your flight ticket from Thailand on your own ). Optional location for pick up is from hotel or train railway around Surabaya

After pick up by private car full AC we will take you to your hotel around Bromo Tengger area.

On the way to Mount Bromo , feel free to rest and stop for having lunch or a toilet.

Visit Madakaripura Waterfall

After taking around 3-4 hours driving we will reach at Bromo area, check in hotel, and have free time
Day 02: Mount Bromo Tour & Surrounding – Hotel in the Mount Ijen area
Wake you up at 03:00 AM, after preparing for Bromo trips by Bromo Jeep Tour will bring you to the viewpoint of sunrise (the highest top in mount Bromo tour area)

Afterward, come back to the jeep and continue to sea of sand and continued by walking around 2 km to the top of Bromo Crater

After finishing enjoying the crater continued to visit Savanah Grass Land, Teletubbies Hill, Whispering of Sand (Pasir Berbisik)

After being satisfied exploring Bromo tourism and the surrounding come back to the hotel for having breakfast, take shower, and rest

After checking out hotel at Bromo continue the trip to your hotel at Ijen area for about 5 hours driving

Stop and rest of having lunch at Pasir Putih Beach area.

Arrive to your hotel in Ijen area check-in and have free time
Day 03: Ijen Blue Fire Tour /Ijen Blue Flame Tour – Drop Off Surabaya/Banyuwangi/Bali/ Yogyakarta

Wake you up at 00.00 AM, after prepare ijen trekking complete, continued to drive to Paltuding parking area. Paltuding is the main gate for ijen hiking.

Accompanied by a local guide  then do ijen night trekking to to see phenomena of Ijen Blue Fire or Ijen Blue flame

After finish enjoy the Ijen volcano trip and explore the surroundings comeback to paltuding

Transfer out to Surabaya with 7 hours driving.

End trips
Note : for bromo ijen tour please take a flight ticket on arrival maximum at 11 am, and a flight back to Thailand after 17.00 pm
Bromo Ijen Tour Price  From Thailand Vietnam
Please contact us
Included
English speaking and experienced driver

Private Car AC during the trips

1 Nite Hotel Accommodation near Mt Bromo (homestay, villa, dormitory, 3 stars or 4 stars)

1 Nite HotelAccomodation near Mt Ijen area (homestay, villa, dormitory, 3 stars or 4 stars)

Daily Breakfast and mineral water

Transportation fuel, high way cost, and parking fee

Local guide for Ijen trekking

Private Bromo Jeep Tour 4 (WD)

Entrance Fee for all tourism objects (Mt Bromo and Ijen Crater)

Gask Mask and Torch Light
Excluded :
English-speaking tour guide (custom order)

Riding Horse

Travel insurance and

personal expenses

Tipping Gratitude
Interested Mount Bromo Ijen Tour From Thailand? Please send an email to  mountbromotour@yahoo.com informing the number of participants and name, phone/wa numbers, location pick up and drop off, and planning dates.
Optional trips
Regards https://mountbromotour.com/